Fighter jets take off from base in Cyprus after 66 Labour MPs help David Cameron achieve majority needed to authorise extending RAF bombing from Iraq to Syria
Britain has carried out its first airstrikes in Syria, hours after MPs voted overwhelmingly to authorise military action.
RAF Tornado jets were seen taking off from the Akrotiri base in Cyprus and the Ministry of Defence later confirmed that they had carried out the "first offensive operation over Syria and have conducted strikes".
The four RAF jets carry a range of munitions including Paveway IV guided bombs and precision-guided Brimstone missiles. Defence officials refused to be drawn on the targets of their mission.
Earlier, at the end of a day of extraordinary rhetoric and private anguish in the House of Commons, MPs voted by 397 to 223 in favour of sending Tornado jets to seek out Isis targets in Syria.
An all-day debate in parliament closed with an oratorical tour de force by the shadow foreign secretary, Hilary Benn, which drew cheers, waving of order papers and applause from across the packed chamber, including from many Tories.
A total of 66 Labour MPs rejected the advice of their leader, Jeremy Corbyn, and voted with the government, but only seven Tories ignored the party's three-line whip and voted to oppose airstrikes.

How MPs voted on Syria airstrikes
The result – an overall majority of 174 – represents the clear political mandate to extend the air campaign that the prime minister has wanted for months and does something to erase the humiliation of his failure to win Commons support for airstrikes against the Syrian president, Bashar al-Assad, in 2013.
The decision was immediately welcomed by Barack Obama.
Aides to Corbyn, who was forced by deep divisions in his party to give his MPs a free vote, said he was disappointed that airstrikes were going ahead, but expressed pleasure that a majority of his MPs and just over half the shadow cabinet voted in opposition. The result enhanced Corbyn's authority, his team said.
Corbyn, whose party faces a difficult byelection on Thursday in Oldham West and Royton, will now need to battle to prevent recriminations inside Labour as some activists target MPs who voted for airstrikes, including potential future leadership rivals to Corbyn. MPs who voted for airstrikes included Harriet Harman, Alan Johnson, Margaret Beckett and the shadow defence secretary, Maria Eagle.
In a speech that swayed some Labour MPs in the final minutes of a 10-hour debate, the often mild-mannered Benn, son of the leftwinger Tony Benn, set out the wider moral and socialist case for action to defeat what he described as a modern-day fascism.
Benn said: "We are here faced by fascists. Not just their calculated brutality, but their belief that they are superior to every single one of us in this chamber tonight, and all of the people that we represent. They hold us in contempt. They hold our values in contempt. They hold our belief in tolerance and decency in contempt. They hold our democracy, the means by which we will make our decision tonight, in contempt."
Opening the debate, the prime minister admitted that his case for airstrikes was complex, but said the question was whether the UK should go after "the terrorists in their heartlands, from where they are plotting to kill British people" or "sit back and wait for them to attack us".
However, he was apparently unsettled in bitter opening exchanges when he was repeatedly challenged to apologise for remarks at a private meeting of Conservative MPs on Tuesday in which he urged his colleagues not to vote alongside "a bunch of terrorist sympathisers".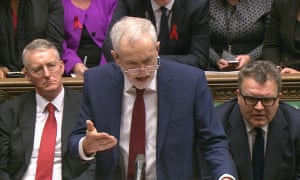 Cameron said Isis was already posing a threat to the UK. It had inspired the worst terrorist attack against British people since 7 July 2005 on the beaches of Tunisia and plotted atrocities on the streets of Britain, he said. "Since November last year, our security services have foiled no fewer than seven different plots against our people, so this threat is very real. Daesh has been trying to attack us for the past year."
Responding, Corbyn said the prime minister had failed to convince "almost anyone" that even if British participation in the air campaign would tip the balance there were "credible ground forces able to take back territory now held by Isil".
He said: "In fact, it's quite clear there are no such forces. Last week, the prime minister suggested that a combination of Kurdish militias, the Free Syrian Army would be able to fill the gap.
"He even claimed a 70,000-strong force of moderate FSA fighters were ready to coordinate action against Isil with the Western air campaign. That claim has not remotely stood up to scrutiny."
Kurdish forces were a "distance away" from Isis strongholds, Corbyn said, while most of the FSA worked with a wide range of groups, which "few, if any, would regard as moderate" and operated in parts of the country not close to territory held by Isis.
The Labour leader added: "The only ground forces able to take advantage of a successful anti-Isil air campaign are stronger jihadist and salafist groups close to Isil-controlled areas."
Corbyn was supported by a Labour member of the foreign affairs select committee, Yasmin Qureshi, who claimed she had been told by military officials in the Middle East last week the true number of moderates was closer to 15,000.
Throughout his speech, Corbyn was flanked by Benn and his deputy leader, Tom Watson, two supporters of airstrikes. In a sign of Labour's divisions, both sides briefed against one another mercilessly throughout the day, and accused each other of bullying and giving bogus projections of how the party's vote would split.
With more than 150 MPs wanting to speak and the shadow of the 2003 Iraq war hanging over the Commons chamber, Cameron attempted to tackle doubts on all sides that he had a credible diplomatic and military strategy that would not make the UK a bigger target for Isis terrorists.
The strategy, he said, was a "transitional government in six months, a new constitution, and free and fair elections within 18 months. I would argue that the key elements of a deal are emerging: ceasefires, opposition groups coming together, the regime looking at negotiation, and the key players – America and Russia, Saudi Arabia and Iran – and key regional players such as Turkey all in the room together. My argument is this: hitting Daesh does not hurt this process – it helps this process."
Midway through the debate, three former cabinet ministers, Alan Johnson, Margaret Beckett and Yvette Cooper, all came down in favour of strikes. Beckett's speech was emailed to wavering Labour MPs. "How we would feel and what we would say if what took place in Paris [the November terrorist attacks] had happened in London, if we had explicitly asked France for support, and France had refused?" the former foreign secretary said.
Dan Jarvis, a former soldier and seen as a possible Labour leadership contender, likened Isis to fascists, saying: "When the war cabinet met in 1940, it was the Labour ministers Clement Attlee and Arthur Greenwood that tipped the balance in favour of resisting Nazism. Daesh are the fascists of our time and I believe there is still a dignity in uniting with our allies in common cause against a common enemy in defence of our common humanity and that is what I hope we will do."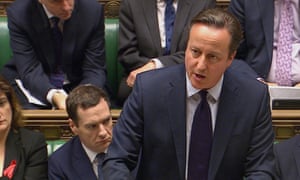 The divisions were just as strongly voiced on the Conservative benches, with Julian Lewis, the chair of the defence select committee, describing Cameron's claims on moderate forces as "bogus battalions" rivalling the "dodgy dossier" produced by Tony Blair before the 2003 Iraq war.
David Davis, the Conservative former shadow home affairs spokesman, said the bombing campaign was counterproductive, arguing that recruitment to Isis had doubled since the campaign started.
Keith Simpson, one of the most experienced foreign affairs voices on the Tory side, defended the need to make difficult alliances with Syrian forces. "During the second world war, when Churchill and Roosevelt were looking at resistance in Europe, it was dreadfully difficult to find out whether people were communists, non-communists, or Gaullists of one kind or another. At the end of the day, their criterion was: 'Are they fighting the Nazis?'"
Ed Miliband the former Labour leader, said in a statement: "I do not think the case has been adequately made that extending British airstrikes will either defeat Isil or make us safer here at home."
Comments
Comments